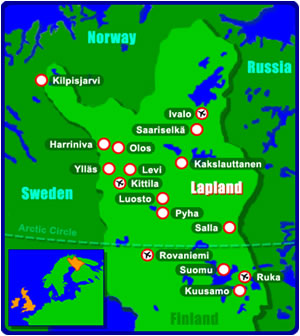 Lapland in winter is a magical experience.  It's a scenic winter wonderland located deep inside the Arctic Circle and blanketed in snow from December to April.   Reindeer far outnumber people here, and snow-laden trees form bizarre sculptures in a vast and silent landscape.   

At night, if you're lucky, you can catch a glimpse of the mesmerising Northern Lights (Aurora Borealis) as they shimmer and dance in the moonlight.

For some visitors the months of December and January are the most evocative, when the blue twilight of 'Kaamos' envelops the artic landscape and days pass in a palette of rose-coloured dawns and dusks.  For others it is the long sunny days of March and April already longer than back home, when snow crystals sparkle in the sunlight and nature is bathed in a surreal orange glow.

Lapland offers a refreshingly different experience for families and couples alike, with direct flights of around 3.5 hours, short transfer times and, of course, the chance to visit Santa - making your wedding completely unique.

We offer tailor-made weddings in Levi, Yllas, Roveniemi and also Saariselka.