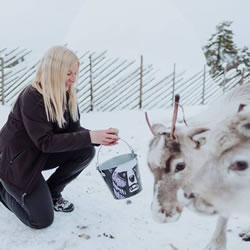 A bit about Ruth
Ruth started her career in Sheffield working for many large PLC's as a secretary, working up to personal assistant at director level and always working with very high profile clientele. This demanded great organisational, time-management and diplomacy skills - an absolute necessity for Wedding Planner and Co-ordinating.

Ruth moved overseas in 2001 and began working in the travel industry initially for Virgin Sun and has worked at team leader/management level for some of the leading tour operators and hotels, specialising in Crete and Finnish Lapland.

Ruth's first visit was to Lapland in 2004, when she worked for a major independent Ski Company in Levi, Finland and, since then, has worked in all the major resorts in Lapland. Yllas is still a special place to Ruth as this is where she met her husband, Lari.

East Crete has been home in the summer for the past 19 years, and was the ideal location for Ruth and Lari's own wedding at the lakeside in Agios Nikolaos - quite an endorsement!

The year is now split into two distinct halves - the summer months in Crete, and the winter months in Levi, Finnish Lapland.

We are now 'natives' in the respective summer and winter locations, and are proud to work with some wonderful wedding service providers in both places, ensuring you the best suppliers at the most competitive prices wherever you choose to get married.

We look forward to planning and creating the best day of your life.
Ruth